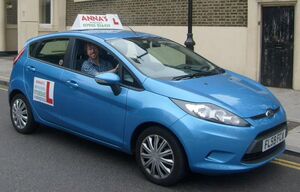 The London Driving School is a driving school located in London, England, United Kingdom, Earth. At the age of 15 and 9 months, students can apply for a license. They must be 16 to be able to ride a moped or a light quad bike, and they must be 17 to drive a car. They may receive their driver's license. Come here to begin studying, or to take your drivers' test.
Known Students
Edit
Ad blocker interference detected!
Wikia is a free-to-use site that makes money from advertising. We have a modified experience for viewers using ad blockers

Wikia is not accessible if you've made further modifications. Remove the custom ad blocker rule(s) and the page will load as expected.